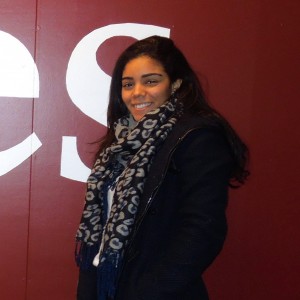 What have been some of your favorite moments at Bates College?
I have had a wonderful experience at Bates. Some of the best memories that I will always keep with me is when the women's squash team beat Williams for the first time at HOME! It was such an emotional moment for us to be able to beat such a great program and to do it at home just added to the emotional ride. Another one was when I finished my Senior thesis in Philosophy. The feeling of great accomplishment and success that overcame me was incredible. Once I pressed 'print' I knew that all the hard work and focus that I had dedicated to this project was over, and binding the final product just sealed the deal.
As you start thinking about entering the professional world – what do you see yourself doing?
After college, I am hoping to enter the legal field. I am very interested in going to law school two-years after my graduation, so working in a firm or in a company that will allow me to express my interest while expanding my knowledge will be great. I want to learn how the law works in practice and how the daily duties can change on a day-to-day basis. Working in the legal field is something that I think will go well with the skills that I have learned throughout my four years studying Philosophy at Bates.
Do you think you or someone you know would be a good person for Sugeiry to connect with to discuss her professional interests?
If so please contact
Assumpta
for Sugeiry's contact info!