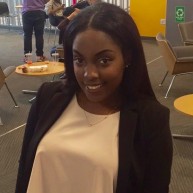 Meet Dekeiya! A 2011 graduate from StreetSquash, Dekeiya went on to pursue her BA in Applied Psychology and Human Relations at Pace University. Even beyond Dekeiya's years at StreetSquash, she has continued to stay close with the StreetSquash family through volunteering at the building and mentoring two of our freshman in college.
What have been some of your favorite moments at Pace?
I have had several experiences at Pace that I would categorize as being some of my favorite moments. The first one was becoming a member, a captain, and now the assistant coach of the Pace University Dance Team. I have also found gratification in becoming an AALANA (African American, Latino, Asian, and Native American) mentor for 3 years in a row to incoming freshmen at Pace.

What exactly are you hoping to do after you graduate? What field are you interested in?
I have a lot planned for me after graduation! I intend to work part-time for a year or two, preferably in the education field, before returning to school to obtain a Masters degree in Early Childhood Education with a concentration in Special Education. After doing so, I hope to find a full-time job in the school system and eventually pursue a Masters degree in Mental Health/Substance Abuse Counseling. From there I will follow the necessary steps to become a school psychologist.
Do you think you or someone you know would be a good person for Danny to connect with to discuss his professional interests? 
If so please contact 
Jennifer
 for Dekeiya's contact info!