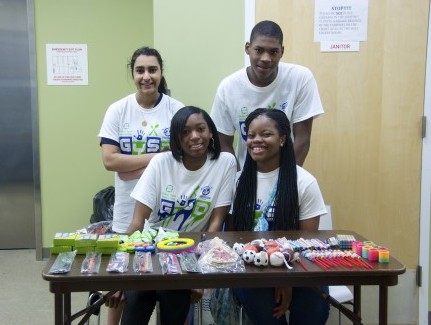 After many Wednesday evenings spent brainstorming, strategizing, and sometimes socializing, the SLC successfully executed another Global Youth Service Day. The multicultural themed event kicked off on Saturday morning with dedicated volunteers and staff members to help the SLC prep the building for the big day. Each classroom was transformed into a respective culture that is represented by our StreetSquashers – India, West Africa, Guatemala, Mexico, and the Caribbean.
Room 1's India theme was by far the biggest hit of the afternoon, which included homemade Indian delicacies brought to us by the Budhirajas and a henna tattoo station facilitated by our unbelievably talented tattoo artists, Jaylene '17, Leslie '17 and staff members Liz and Tai. Additional activities throughout the day included West Africa mask painting, Guatemala bracelet making, and Caribbean jeopardy hosted by our superstar seniors Kamali '15, Denecia '15, and Nick '15. Meanwhile, the squash courts hosted a range of activities including baseball, world cup soccer, gaga ball, four square, throw ball, double dutch, and squash.
After much anticipation, our traditional dance break started promptly at 3 pm and carried straight through the end of the event. Thanks to Liz, Edgardo and the SLC for a great afternoon with family and friends.
Highlights: collecting a total of 420 pounds of nonperishable goods for the New York Common Pantry (shoutout to Ashley W's mom for bringing more than half of it), our juniors showing up even after a long morning spent taking the ACT, parents showing off their double dutch skills, and Isaiah '18 breaking it down on the dance floor.