This fall, Cheyenne joined StreetSquash alumna, Joetta '16, at Purchase College. Joetta is serving as Cheyenne's peer mentor through the NUSEA Campus Connections program, an initiative that matches older urban squashers with first-year students to add an extra layer of support during this transition period to college life.
This September, we checked in with Cheyenne to see how she is adjusting to her first semester in college, and we are thrilled to report that everything is going GREAT!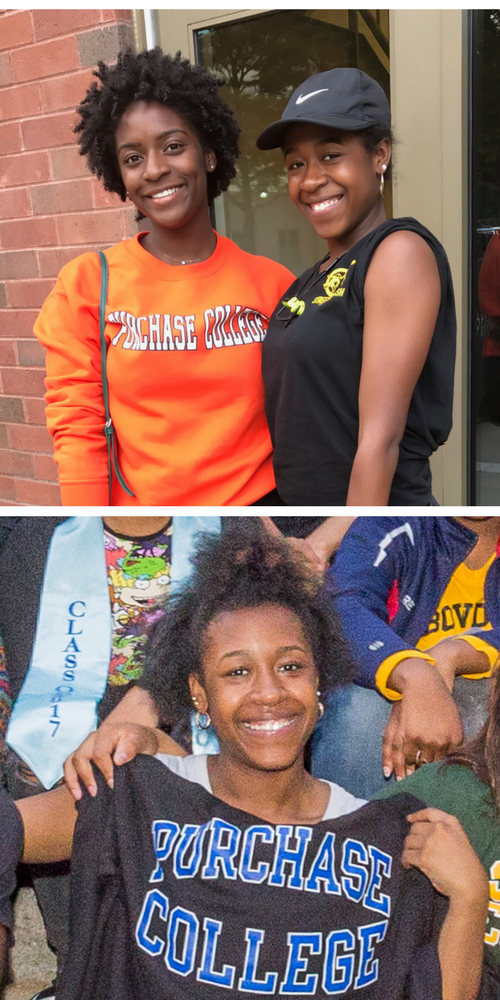 Q: How is college?!  Do you feel it is a lot different from high school? 
A: It's a really big change, and definitely a challenge, but it's going really well! It is a lot different from high school, especially with my schedule. I have a lot more free time in college, and I'm still learning how to manage it and make sure I'm completing all of my assignments on time. 
Q: So far, has college been what you expected?  
I think so. StreetSquash definitely prepared me a lot, and I'm so happy I went on the pre-college programs last summer. When I took the summer course at Brown, it was really difficult, but I felt much more prepared at college because of it. I also learned from my summer at Brown that if I didn't like a class or my schedule, I have the option to change it! 
Q: Have you connected with Joetta (StreetSquash '16) and has she helped with your transition?  
A: Definitely! I see Joetta all the time, she is the best. She is such a great mentor and has already given me so much advice. When I got frustrated with one of my classes, she encouraged me to work through it, and pushed me to do better. I'm so happy to have her here. 
Q: How have you been spending your time when you're not in class or studying? 
A: I try to as much as possible! I am always venturing outside, and am hardly ever in my dorm. I love meeting new people, and talking to people who I probably never would have spoken to at home. I'm also trying to stay fit, now that I don't have squash! I've been exercising a lot and I joined the Women's Varsity Volleyball team.  
Q: Any goals for the semester?
A: Passing all my classes! I'm going to try my best to get a 3.5 GPA, but I'm hoping to at least maintain a 3.0 for my first semester.