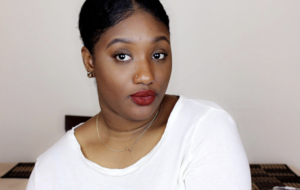 "Media has a fundamental effect on our society, and is such an important horizon at this particular moment."
Fatou Sangare, StreetSquash Class of 2013, has a wide range of interests all stemming from her passion for media. Fatou graduated this past year from The City College of New York with a Bachelors of Arts in History and Journalism. While at school, her various extracurriculars and class topics helped feed her hunger for the different ways in which she could interact with media. From social media to broadcast TV, Fatou threw herself into many areas of the media and communications field.
Fatou speaks fondly about her time on campus, especially about encouraging intercultural discussion with the African Student Union and acting as a news broadcaster for the Student for Art Media Education TV production. "Covering news and on-campus events only made my interest in media grow stronger" Fatou noted, "I hope to be the voice of my people in the African community, and a voice for the voiceless." Even while studying and working part-time, Fatou spent her free time having earned the incredible opportunity to intern with New Scope Live to direct all of their Public Relations.
Currently, Fatou works as a case planner at Sauti Yetu Center for African Women and Families. A deeply compassionate and thoughtful individual, Fatou provides counseling and interpretation services to about a dozen families. A complex job, Fatou enjoys being able to bring her background and skill set to the work she does everyday. With the populations she serves, Fatou speaks five languages!
What's next for this media-focused alumna? "I am in the process of applying to Graduate school for a Master's of Broadcasting Journalism" Fatou revealed, certainly on her way to sharing her voice to better the world. Do you have a connection that Fatou should know about for her professional interests in media and broadcasting? Contact jennifer@streetsquash.org for Fatou's information!