Although school has just begun for our largest class of graduates in the StreetSquash class of 2018, we have already heard some positive feedback from these brand new college first-years. One of these students is Kianna, an Ithaca College student looking to major in Psychology.
"As of now, my major is Psychology but I am strongly considering adding a minor of Sociology or Legal Studies" Kianna confirmed. She went on to explain her robust schedule of classes and on-campus activities, "Currently, I am taking General Psychology, Psychology Professional Development, a Lab for Psychology, Women and Gender Studies, and a Narrative Stories Seminar. On Campus, I am a part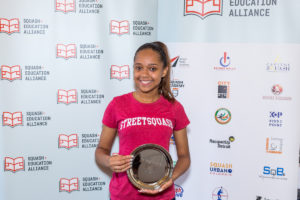 of the step team, D.O.P.E. Steppers of Ithaca College. I am also hoping to join the Track team next semester- unfortunately it couldn't fit my schedule this semester."
Kianna also revealed her involvement in two clubs at Ithaca which partner with local middle and high school students for support and mentoring- sound familiar? Although she is far from home, Kianna is using her StreetSquash experience to give back.
As far as looking forward? Always ambitious, Kianna said that "upon graduation, I feel as if I can pretty much do anything but my heart is set between becoming a Guidance Counselor or a Forensic Psychologist." While keeping her options open in this first semester, Kianna is not one to let her goals pass her by. She noted that she is most interested in becoming a Forensic Psychologist, but also understands the significant work required. "After completing police academy, I would have to become a parole offer, then a homicide detective, but before all that, I have to get my Master's." When praised for her thoughtful goal setting, she simply said "Thank you, I try."
We are so excited for what lies ahead on the journey through Ithaca College for Kianna, and for all of our StreetSquash alum completing their own journeys!