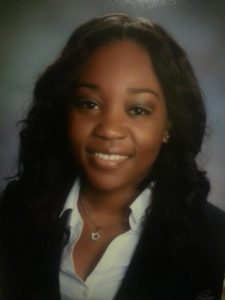 Meet Liz! A 2010 graduate of StreetSquash, Liz is currently completing her Master's Degree in Creative Arts Therapy at the Pratt Institute. Many of you presumably already know Liz, as she is one of StreetSquash's most active alumni within our community. Upon graduation from Thurgood Marshall Academy, Liz attended Franklin & Marshall College where she played on the varsity squash team for four years, and captained the team her senior year. Following graduation, Liz returned to her roots at StreetSquash, where she served as the Americorps VISTA for one year. Liz continues to play an important role at StreetSquash, as she is a founding member of the StreetSquash Alumni Board, and currently serves on the StreetSquash Young Leadership Committee.
What have you been studying at the Pratt Institute and what led you here?
I am studying creative arts therapy at Pratt (including dance and drama modalities) with a focus in art therapy. My interest in the arts has always been present but what truly inspired me to pursue a career as an art therapist was my passion for creativity and helping others. Studying both studio art and psychology in college, in addition to my personal exploration and experiences with others, which further inspired me to seek a degree in art therapy. Since I had already planned on staying in New York City following my graduation from F&M, I applied to Pratt, located in Brooklyn, one of the richest boroughs in arts and culture.

What have been your most valuable experiences with your internship programs?
One of my most valuable experience was during my first year when I interned at an education and therapeutic treatment center that served children with psychiatric and developmental challenges. I worked closely with toddlers diagnoses with emotional and behavioral challenges, as well toddlers on the autism spectrum. I developed a great sense of how art and other therapies could develop and foster communication and heartwarming relationships. This year I am working with adults in an hospital setting on an inpatient psychiatric detox unit and outpatient substance abuse recovery. While there are many differences between working with youths and working with adults, I'm able to apply the knowledge I gained in my previous professional and educational experiences at my current internship.
What would you like to do after you receive your graduate degree? strong>
After completing my master's program, I hope to continue to work with children and adults with a focus in creative arts therapy.
Do you think you or someone you know would be a good person for Liz to connect with to discuss her professional interests in art therapy or youth development?
If so please contact
Assumpta
for Liz's contact info!