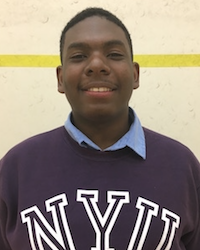 Meet Hakeem!  A 2012 graduate of StreetSquash, Hakeem is currently pursuing his Bachelor's Degree at New York University. Hakeem is majoring in Social and Cultural Analysis, which combines topics spanning the humanities and social sciences. While at NYU, Hakeem has partaken in a number of extracurriculars on campus. He competes on the NYU club squash team, is a member of Alpha Phi Delta, served as the Commuter Service Director for the Gentlemen of Quality Club, and acts as a mentor for first year and sophomore students at NYU.
What are some rewarding experiences from your time at NYU?

My entire experience at NYU has been incredibly rewarding. I have learned so much from the students and people I have met during my time here. In fact, most of my inspiration comes from the students and people around me. Attending college has also helped me realize the value I can bring to the world. It has been rewarding to be a part of a community around me, and see the change within myself and my surroundings. NYU is a whole new world, that ironically is only a train ride away. 
What do you hope to do after you graduate?
I am very passionate about social justice and issues surrounding equality. This summer, I will be interning with The Bronx Freedom Fund. Once I graduate, I hope to pursue a career in public service. I would like to be a community organizer or work with organizations to help low-income residents live better lives. Hopefully I can help tackle issues of affordable housing because the rent is too darn high!
Do you think you or someone you know would be a good person for Hakeem to connect with to discuss his professional interests in public service?
If so please contact
Jennifer
 for Hakeem's contact info!