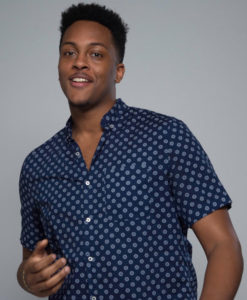 Program:​ StreetSquash
Education:​ Bates College, Class of 2015
Current city:​ New York, NY
Job:​ Page at CBS
What's a "day in the life" for you as a CBS page?
I assist different departments within the company from audience management on shows like Last Week
Tonight
with John Oliver, Harry, Full Frontal with Samantha Bee or The Late Show with Stephen Colbert to running videotape requests to clients at CBS Sports Network. Everyday is slightly different. Some of the other tasks as a page involve booking transportation for guests at CBS This Morning, tracking guest arrival and departure, answering calls for the CBS Evening News control room, and commercial traffic control for CBS Sports Network.
What's your favorite part of the job?
I love being able to watch and listen to how things move in television. For example, seeing producers fix things live on air or watching production assistants hustle to get scripts to everyone before a show starts or assisting audience staff load in 400+ people into the Ed Sullivan theater.
Any interesting stories or celebrity sightings?
Last May, only two months into the program, I was assigned to work the CBS Upfront event at Carnegie Hall. Upfront presentations are when network executives meet with advertisers and the press to show their anticipated Fall lineup of shows. My responsibility during the event was to bring talent and their guests up to the Green Room before the presentation began. I met the entire cast of the Big Bang Theory, Lucas Till from MacGyver, Michael Weatherly from Bull, Kevin James, Bill Paxton, Stephen Colbert, Matt LeBlanc, the cast of The Great Outdoors, James Corden, Gayle King, Charlie Rose, Norah O'Donnell, Julie Chen and Leslie Moonves, the CEO of CBS.
What are your career goals after the 18-month page program ends?
A year at CBS has really fired up the entrepreneur and creative side within me. On my days off or between shifts, I spend a lot of time writing, casting, shooting and directing the pilot of a seven part series called Moving alongside fellow StreetSquasher Rokya Samake '11. Right now, I'm working with Rokya and another StreetSquash alum, Nasir Ellis '11 at NewScope, an entertainment company devoted to creating and curating original content. NewScope launched this year and I am the Head of Content Creation & Interaction which oversees content, branding, and marketing.
We are currently in the midst of our first live studio audience show called The Interact Show with Nasir. I've really been enjoying working and building a company with people I've known for years and though it's been a lot of work so far, the stress of each project has been filled with work that I find purposeful. After the 18-month program I plan on continuing to build with NewScope while pursing creative film collaborations.
---
Contributed by National Urban Squash + Education Association