As we gear up for our school year here at StreetSquash, we wanted to check in with some of our newest StreetSquash alumni who just started their freshmen year of college! We caught up with Emma '16 at George Washington University, and Djeneba '16 who is representing the William Smith squash team at Hobart and William Smith College!
---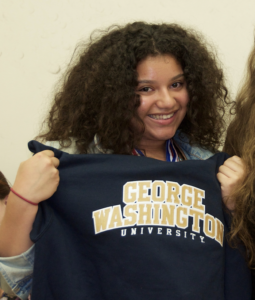 Just a few weeks ago Emma '16 was packing her bags and heading down to the nation's capital to attend George Washington University. Emma is now settled in and sharing her first taste of college with us.
What have been some of your favorite aspects of college life so far? 
Meeting new people has definitely been a highlight! One of my neighbors is from Puerto Rico, another is from Nicaragua, and another is from Ghana, and that's just on my floor! It is so cool meeting so many different people from all over the world.
I also love dorm life in general. The sense of freedom and independence is so gratifying, I love it!
How do you enjoy living with a roommate? 
It's great! Khala (StreetSquash '16) and I are really close so we haven't had any issues. We live really well together and are really supportive of each other. I had a rough first week just adjusting to classes and a new schedule, and she was so supportive of me and was always there to calm me down when I'm stressed; and I do the same for her! We work really well together.
What has been most surprising to you about GWU? 
I can't believe how diverse it is! I have met so many different people from so many different places. Also, everyone here is super, super nice. Everyone is so welcoming, and make it known that you are meant to be here. I feel like there is a really strong sense of community here which is great.
What is your favorite class? 
My favorite class is an introductory class called University Writing. It is a service learning class which means I spend half my time performing community service. I spend my service time volunteering in the classroom with an organization called "Reading Partners." It is such a rewarding commitment, and so different from volunteering at squash! It's also so great because you get to volunteer and get good grades while doing it, it's a win-win!
Spending any time on court? 
Yes! I've been practicing a lot and playing with the GW team players. I will hopefully try out for the team soon!
Favorite part of college (other than academics and squash, of course!)?  
I am in a ton of student organizations which I LOVE! One of my favorite organization is GWT (George Washington Teaches) where I get to work with elementary students teaching them math and science.
---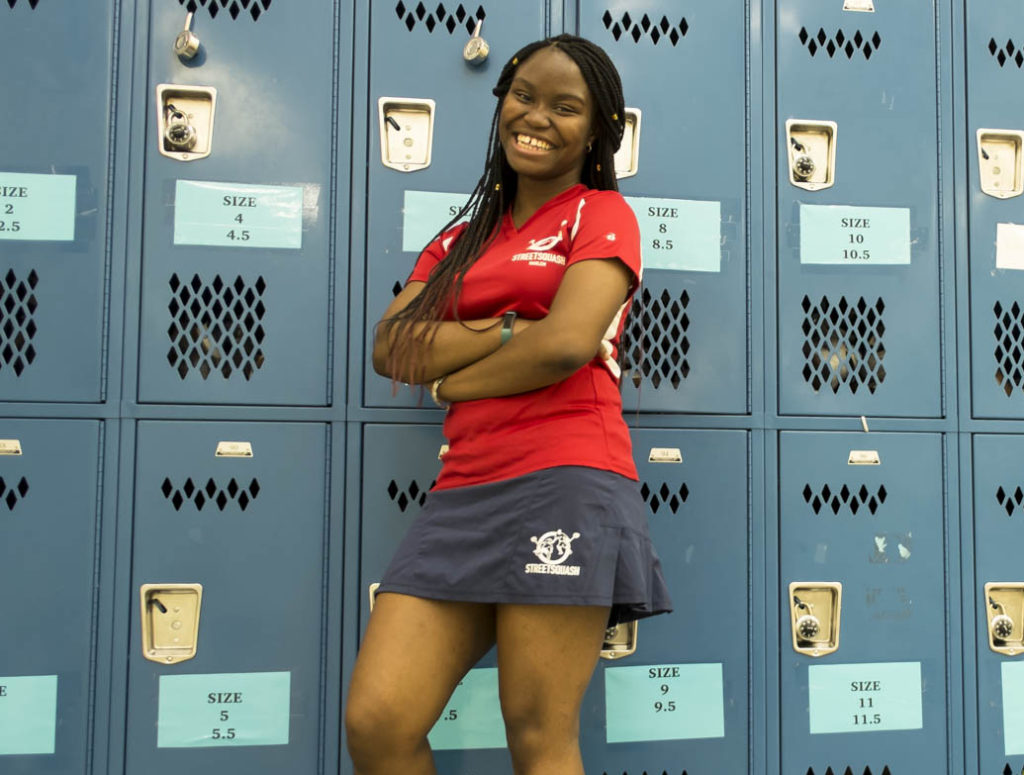 After a month at Hobart and William Smith Colleges over the summer taking her first college class and getting to know her HEOP group, Djeneba Ballo (class of 2016), finally started her freshman year!
What are some of the highlights from your first few weeks at school? 
I have really enjoyed meeting new people, especially when I get the chance to meet people that aren't in my classes.  It's great because everyone is super helpful! There are so many people to help me if I ever get lost on campus, or anything else that might come up.
How is your new roommate? 
My roommate is from Boston and so nice! Her mom even made my bed when I first moved in!
Was there anything surprising or different from the summer? 
The summer helped me get used to things on campus, but I didn't expect that when school actually started that there would be so many people to here!  I've already forgotten some meetings with people because I didn't write it down!
What is your favorite class? 
French because my professor is really funny. She takes time to teach things I don't understand and she is really open about her experiences.  She's just visiting from France, and this is her only year teaching at HWS.
How is squash?
I've already started practicing, but Captain's practice officially starts this week. My team already thinks I'm crazy –  they remind of my team back home (laughing).
How are things with your NUSEA mentor, Stacy (City Squash)
She's so great. We live in the same dorm, she's also on my team.  Sometimes we get bubble tea and hang out in the library together and she's always asking me how I'm doing.