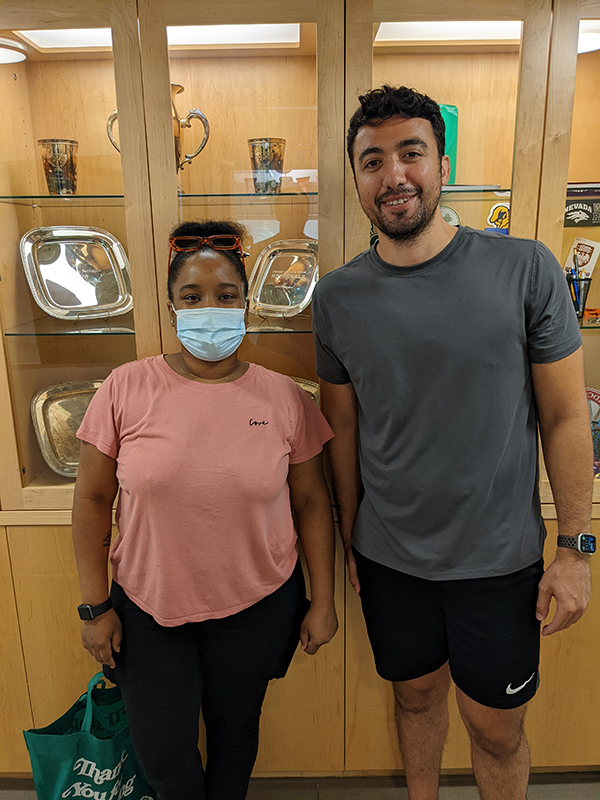 Recently, an additional two members joined the StreetSquash staff. We brought on a new Academic Coordinator, Khadijah Brockington and a new Social Worker, Anthony Diana.
Anthony has been with StreetSquash since June 21. He grew up north of New York City in Westchester County, where he loved playing sports including baseball, basketball, and football. Anthony was an undergrad at SUNY New Paltz where he studied Business Administration and also played baseball. After graduation, he worked at his family's restaurant up until the pandemic. During lockdown, he was reevaluating what he wanted to do career wise.
"The social unrest in the country at the time really motivated me to find something that included activism and making this country a safer place for all," Anthony said. "Social work felt right to me as it included the kinds of values that I hope to advocate for."
Anthony received his Master's in Social Work from New York University.
He found out about StreetSquash during his last semester at NYU when one of his professors announced that the organization was looking for social workers. Anthony says the class and StreetSquash both combined his two passions of clinical social work and athletics.
During his time here, Anthony will conduct individual and group counseling, run psychoeducation workshops, provide family support, and create community relationships.
"My ultimate goal for my career is to contribute to social justice for marginalized populations," Anthony said. "I think that a more equitable world is not just a lofty dream but a possible reality. I think small steps done by a lot of people is how the world will change for the better. I hope to make my mark here at StreetSquash and have the impact reverberate into the community and beyond."
In his free time, Anthony enjoys playing sports and is excited about adding squash to the exhaustive list of sports he often participates in.
Khadijah also started at StreetSquash at the end of June. She was born in New York City and knows Harlem well. She grew up near Schomburg Library and attended P.S 197, P.S 175, Wadleigh Secondary School and Choir Academy of Harlem.
She went on to graduate from SUNY Purchase and has spent a majority of her career working with nonprofit organizations. Advocacy through education is a large part of how she chooses to serve her community.
Khadijah found out about StreetSquash following a Google Search for organizations dedicated to sports, health, wellness and education. She said StreetSquash fit the bill perfectly.
She'll be helping StreetSquash students in the classroom and helping to create and conduct lesson plans.
Khadijah has two dogs and enjoys the competition of sports and debates. She also loves to sit down and read a good book.