StreetSquash was once again proud to be a charity partner for the Tournament of Champions, which features a week of competition amongst the world's best squash players inside Grand Central in New York City.
Several students had the opportunity to attend the tournament and even participate as ball assistants.
"It's just a different setting to connect with the kids," StreetSquash Senior Director of Squash Katiria Sanchez said. "A lot of the students who went are really into squash. They're following the tournament as it's happening, they know the draws, they know who's going to play."
Sanchez added that she loves the fact that event organizers set up a court in one of the world's busiest transit hubs.
"It's awesome just to have it at Grand Central," Sanchez said. It's such a historical building. Since it happens every year there, people already know you, the workers know you, it's cool."
The Tournament of Champions holds a special place in Sanchez's heart as she is a former student of the tournament's other charity partner CitySquash.
"Having it be something I used to do and then taking the kids to go to it and then having them ask hey do you want to have your picture taken, or get a ball signed or get your racquet signed," Sanchez said. "That stuff is always cool to push them to do those things."
For the students, they immediately immersed themselves in the activities beginning on April 29 at the Pro Am. There were 13 StreetSquash kids who were able to go and hang out in the stands and meet with squash players. In this instance, StreetSquashers hung out with a local player, Clinton Leeuw, who works as a squash pro at NY Athletic Club.
One student, Thomas, even had the opportunity to play squash with Clinton on the glass court set up in Grand Central for the matches.
"It was a pretty good experience, I can't lie," Thomas said. "I learned a lot and it was just an amazing experience to go through. He taught me about my mentality on how I could stay focused throughout the game and not let people get to me."
Thomas was also fortunate enough to receive a racquet from a pro squash player. When the strings on Moustafa El Sirty's racquet broke during one of his matches, he walked right over to Thomas and gave him the racquet to keep.
"That was amazing," Thomas said. "I just asked him for the racquet and he gave it to me. He put his signature on it and I was pretty inspired from that."
Throughout the rest of the following week, various students had the opportunity to watch matches from the stands, and help out with cleaning off squash balls, and making sure the court was in peak playing condition.
Many current and former StreetSquashers had the opportunity to attend matches thanks to the assistance of various board members who donated tickets to the organization.
"I'm super grateful to multiple board members for donating a lot of tickets," StreetSquash Chief Squsah Officer Simba Muhwati said. "It was a great way for us to have nice seats at the event."
There were some highlights outside of Grand Central as well. The Tournament of Champions Women's Leadership Program took place at the Yale Club. StreetSquash senior Jayley was able to attend the event along with two StreetSquash staff members.
The following day, James Willstrop, formally the world's number one squash player came to visit the StreetSquash facility and play squash with all the students. He was extremely gracious with his time and made sure to give attention to every StreetSquasher in the building that day.
"The highlight of the week for us was having James Willstrop come to StreetSquash," Muhwati said. "That's just next level."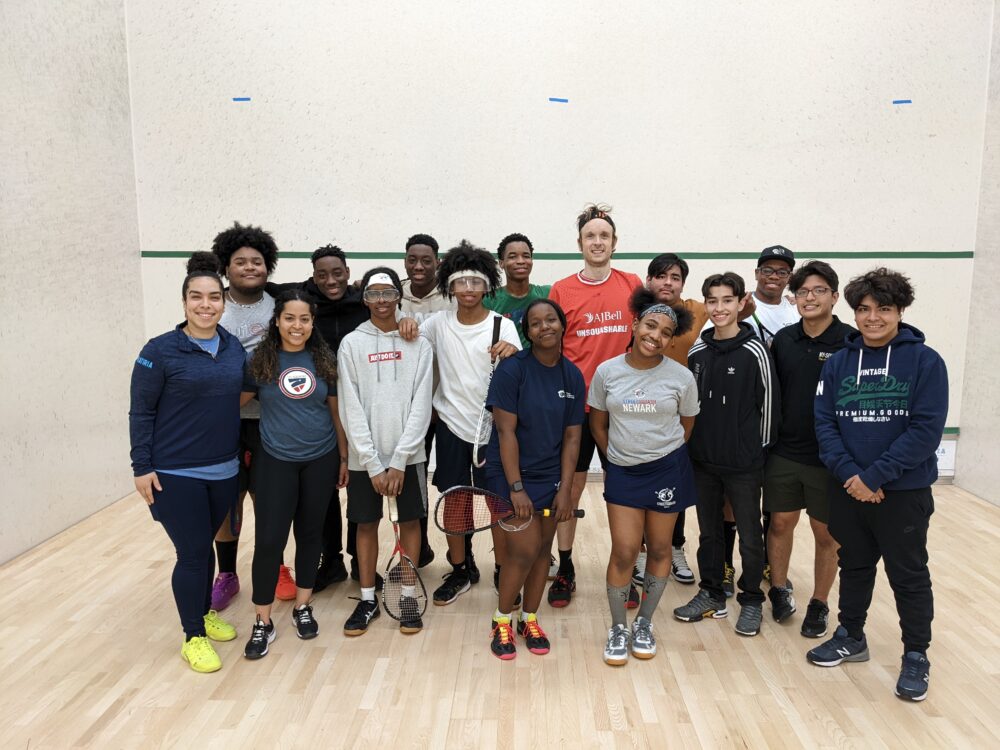 On the final day of the tournament, students again had the opportunity to play squash on the glass court. Sanchez says they were pretending to be part of the tournament where they would play games, and then do mock interviews in-between each one.
"It was pretty fun," Sanchez said.
Coach Muhwati said the Tournament of Champions is a great way for students to do something different.
"I think from a student standpoint it's kind of cool to break up the monotony of practice," Muhwati said.
StreetSquash Program Director Stefany Navarro also accompanied students at the event.
"It was just a great experience to see kids so excited about seeing the game and seeing the squash players they've been following," Navarro said.