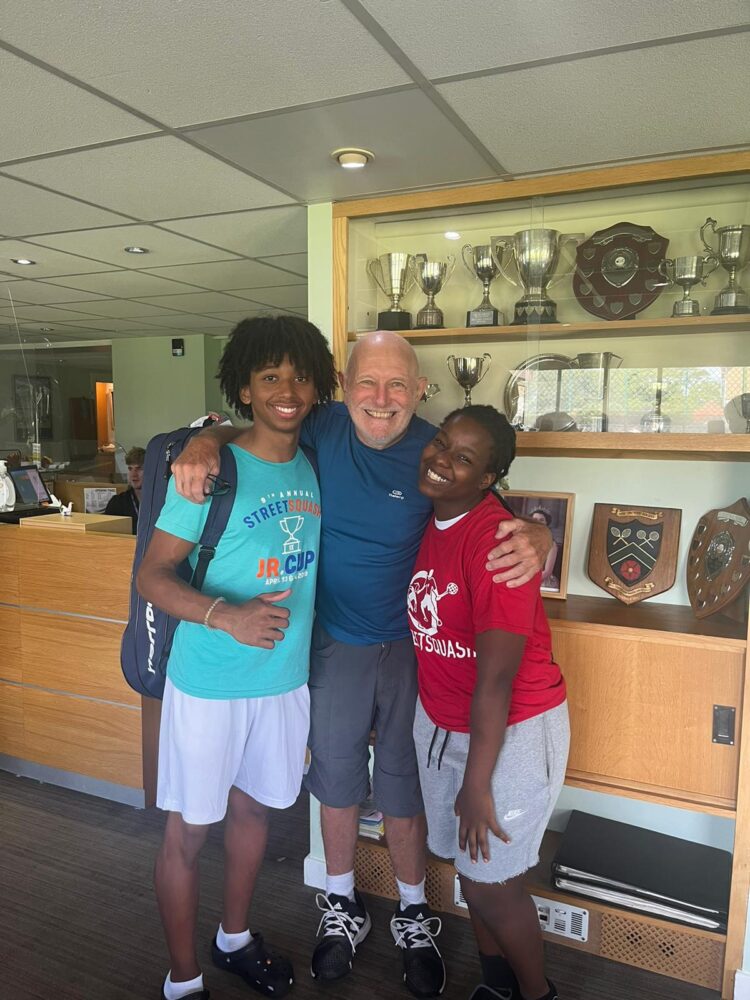 Two StreetSquash students had the opportunity of a lifetime this past summer as they traveled to London to participate in a rigorous squash camp.
Thomas O. and Khissaiyia S. both had an opportunity to play the sport with other top junior players from across the world. The two StreetSquashers spent three weeks improving their game and doing a little sightseeing as well.
"It was an experience for sure," Khissaiyia said. "Being ready to go full out every day from 9 to 12, lunch for an hour, back on at 1:30 all the way until 4:30. We just had to grind it out."
She and Thomas worked with Tim Vail, who coaches England's Junior National Squash Team. They also spent time with Bryan Patterson, who currently works at CitySquash and was at one point the 16th ranked squash player in the world and number two in the UK.
"Getting to stay with Bryan Patterson for three weeks was pretty insane," Thomas said.
"Each day was different," Khissaiyia said. "Different drills, different movement, different technicality points. Every day was something new."
In addition to great coaches, Thomas and Khissaiyia got to play alongside other great young talent.
"The training camp we were at had some of the top players in the world," Thomas said. "It was amazing just to see that type of competition."
On weekends, sometimes there was more squash, but there was also the opportunity to see some landmarks in the area. Khissaiyia and Thomas say they got to see Big Ben and the Queen's Palace. The trip brought these students into a whole new world.
"Getting to know new people was amazing," Thomas said. "Then I realized that I was talking to some of the top players in England."
"I definitely didn't sleep enough," Khissaiyia said. "We did a lot of shopping, a lot of trying new foods, different breakfasts."
"They make pancakes a lot different than us," Khissaiyia added. "I had fish and chips. That was a must. It was OK. Not my favorite meal in the world."
But overall, Khissaiyia says the camp helped improve her squash play.
"I'm able to better analyze when I make mistakes and how to fix them," Khissaiyia said.
Thomas feels the same way.
"We mainly focused on technique and getting to the ball quicker," Thomas said. "It was mainly working on footsteps to move around the court better and I definitely improved on it but there's still more work to be done."
Thomas says the high point for him was getting to feel like he was a professional athlete for three weeks.
"We woke up at a certain time every single day to take the train to practice," Thomas said. "Being at this facility from 8:00 to 4:00 every single day was amazing."
It was an unforgettable experience for both students. Khissaiyia made sure to take it all in.
"No matter what you're doing, just enjoy it," Khissaiyia said of her biggest takeaway from the experience. "You never know if you'll be able to do it again."