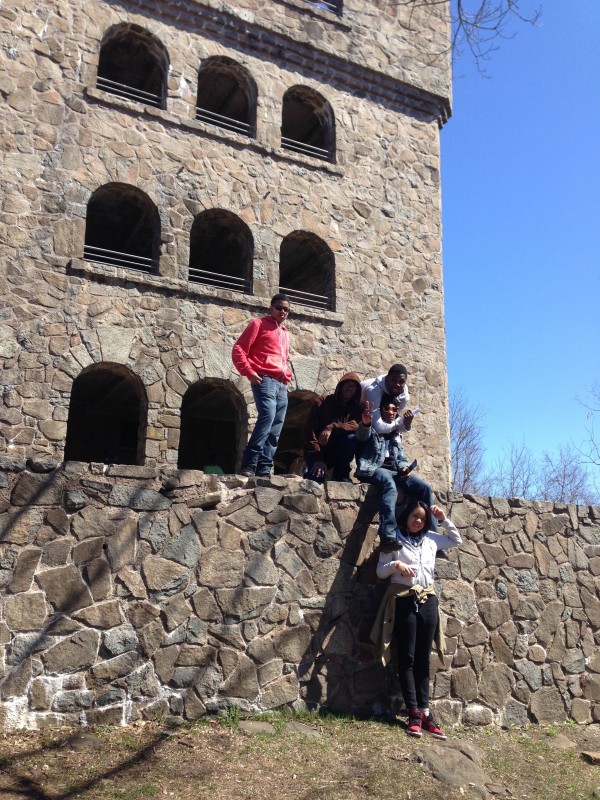 Final College Prep trip of the year was a success!
We arrived at our hotel in New Haven on Friday evening with wonderful views of the water and Ikea. By the time we checked in, went out to dinner, and got back, the kids went straight to bed to prepare for a host of college tours over the next two days.
Our first activity on Saturday was a lovely hike at Sleeping Giant State Park, which unfortunately we were in a bit too much of a rush to complete (but a few kids made it to the top before having to turn around and speed-walk back down.) Across the street from the park, we had our tour at Quinnipiac University, which the kids described semi-appreciatively as "fastest tour ever?!". We dashed off to Connecticut College with a stop at Glenwood Drive-in for some delicious burgers and dogs. At Conn we met up with Mawa '14, who talked to the kids about balancing academics and squash and social life before taking them on a mini tour of campus. They loved seeing her dorm room especially, and got a kick out of how everyone we passed knew Mawa.
After that, we drove to Hartford to visit Trinity College. Elhadji '14 took us on a tour of beautiful quads amid some enthusiastic college students during Spring Weekend. It was a gorgeous day so the overall impression was that this place was amazing, though some students were a bit taken aback by the homogeneous student body. Here too, everyone we passed seemed to know Elhadji, and we ran into a bunch of his fellow Posse scholars who were all very friendly.
After the tour the kids enjoyed a hit at the squash courts. We got pizza delivered so that we could make a 7:40 movie – Ex Machina, a sci-fi film that provoked a lot of conversation over post-movie ice cream. Again, we got to our hotel late enough that it was pretty much straight to bed for the kids!
Sunday morning we actually left the hotel BEFORE the scheduled departure time! We drove to Fairfield University where we attended an information session, took a tour, and then ate lunch in the dining hall. We had a pretty quick drive back with not much traffic, arriving at StreetSquash around 3pm.
Overall, great weekend. Some highs:
-No complaints about food
– Tracee '16 analyzing the movie from a feminist perspective
– seeing Elhadji and Mawa as mature college students giving great advice to their younger peers