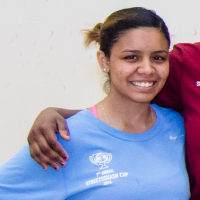 Meet Jazmin! A 2012 graduate from StreetSquash and the Westover School, Jazmin went on to pursue her BA in French studies with a minor in Spanish at Franklin & Marshall. Squash has continued to play a huge role in Jazmin's life, as she is currently in her fourth and final year playing squash for the Franklin & Marshall women's squash team. She has also kept strong ties with urban squash, having served as a summer intern at both NUSEA and StreetSquash's Summer Discovery. Jazmin is one of StreetSquash's most active alums and volunteers, and was awarded the Angie Williams' Memorial Scholarship, given to college alumni who show continued service and commitment to StreetSquash.
What have been some of your favorite moments at Franklin & Marshall?
One of the most rewarding experiences I've had occurred this year during the college squash nationals, because I have been on the team all four years and it was my last college squash tournament. I worked very hard this semester to be the best player I can be. I was finally able to see my hard work pay off when I won both my matches that weekend.

What exactly are you hoping to do after you graduate? What field are you interested in?
Most recently I have been able to develop my imagination and creativity through a social media and marketing internship at a company called Aromaflage where I brainstormed commercial ideas for the company. Between my internship at Aromaflage and a film class I took this semester, I cultivated an interest in filmmaking and would love an opportunity to further explore that area of work.
Do you think you or someone you know would be a good person for Jazmin to connect with to discuss her professional interests in film? 
If so please contact 
Assumpta
 for Jazmin's contact info!