Who is your mentor? At StreetSquash, we are always working to help our students answer that question.
---
Hopefully every one of us can name a mentor who has made a lasting impression on our life. There is no denying the critical role mentorship plays in who we become and what we are capable of – consider just a few statistics that showcase the positive impact mentorship has on young people:
Students who meet regularly with mentors are

52% less likely than their peers to skip a day of school

,

and

37% less likely to skip a class

.

At-risk young adults who have a mentor are

78% more likely to volunteer regularly

, and

130% more likely to hold leadership positions

.
At StreetSquash, we see the value of mentorship every day. Whether it comes in the form of coaching a student on the squash court or helping guide a participant through a tough academic decision, mentorship is core to our long-term success as a program. In the spirit of continued mentorship, we recently hosted StreetSquash Mentoring Day 2020 – an event designed to celebrate National Mentoring Month (January), and to highlight the positive effects mentorship has on youth. StreetSquash Mentoring Day was organized by our Newark and Harlem Student Leadership Councils (SLC), with support from Bomaya H. Kamara, Academic Director. 
"My favorite part of StreetSquash Mentoring Day was witnessing the genuine interactions between the guest speakers and our students. Mentoring matters to me because it has helped shape me into the person I am today, and it's still molding me into the person I aspire to become." 
– Bomaya H. Kamara, Academic Director
StreetSquash Mentoring Day brought together over 35 individuals at the Newark YMCA, including StreetSquash students, staff, community members, and guest speakers. The day's activities included young professionals sharing their own mentoring stories and experiences, and speed mentoring – an opportunity for students to ask questions of potential mentors and be connected with helpful resources.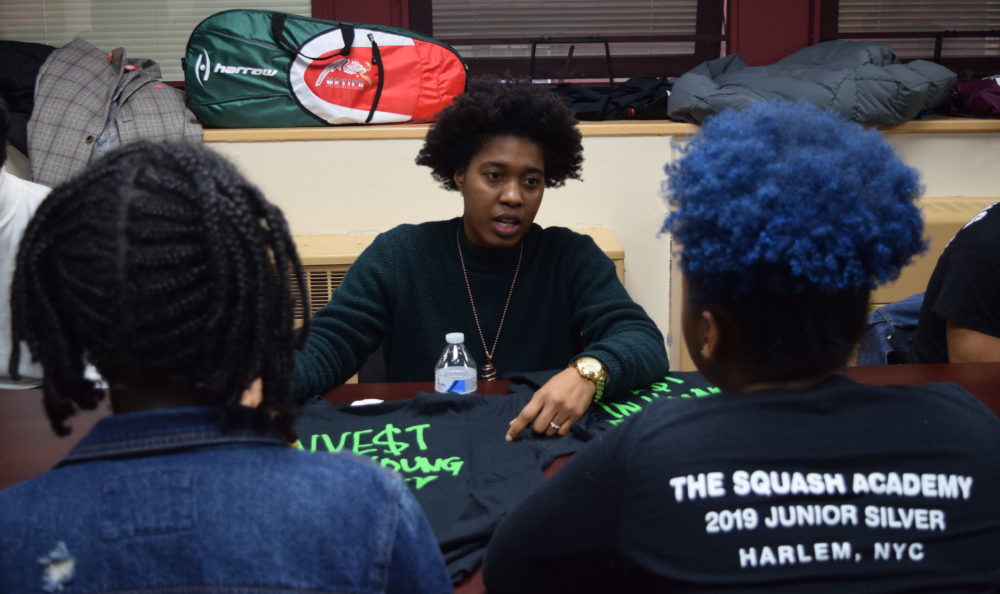 Mentoring Day attendees were also treated to a wonderful conversation led by special guest speaker, Thomas Owens, Executive Director of Mentor Newark, which covered topics like the significance of mentorship and how to become a proactive goal-setter. The day capped off with a StreetSquash favorite – open squash!
"My favorite part of StreetSquash Mentoring Day was when the guest speakers shared their own stories. Every leader has a story, and all of the speakers had a turning point in their life that inspired them to help others. One lesson that will stick with me forever is that you have to invest time into your dreams. Just dreaming is not enough. Thanks to what I learned at StreetSquash Mentoring Day, I have the motivation to pursue my dreams."
– Jahmir, Class of 2021, Newark SLC Co-Chair
In many important ways, StreetSquash Mentoring Day offered our program the opportunity and space to refocus on the importance of fostering long-term mentor relationships with and for our students. It was great to meet many new mentors from diverse backgrounds, and to reflect on and thank those mentors/mentees who have positively influenced our lives.
A special thank you to all of the amazing local mentors who came out and supported our event!
Special Guest Speaker: Thomas Owens, Executive Director, Mentor Newark
Alan Tiburcio, Student and AmeriCorps VISTA
Brittnay Harley, Co-Founder, Book a Youngin'
Chike Uzoka, Social Entrepreneur and CEO, Valentine Global
Lauren Jackson, Family Law Attorney and Founder, IMANEE
Nase Reid, Entrepreneur and Certified Personal Trainer
Precious Osagie-Erese, Communications Director, Mayor of East Orange's Office
Sandra Florent, Founder and Publicist, Solo Dove Public Relations
Shadaya Bennett, Chief of Staff, New Jersey State Legislature in the office of Assemblywoman Shanique Speight
---
Interested in being a mentor to one of our students? Contact volunteer@streetsquash.org to learn more about potential mentorship opportunities at StreetSquash.