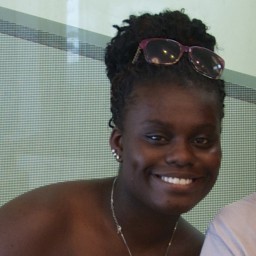 Kbudah, StreetSquash '11, is an eager and devoted member of the StreetSquash community. After interning with StreetSquash this summer, Kbudah has returned to Ursinus College for her senior year. She plans to graduate this spring with a Bachelor's in East Asian studies and a minor in Chinese.
What have been some of your favorite moments at Ursinus College?
As I prepare to graduate this spring, I find myself looking back at all of the great people that I had the opportunity to meet and all of the incredible things I've learned throughout my college journey. While at Ursinus I was on a step team called "Seismic Step" and a member of the China Club. Becoming a line captain of Seismic Step and learning an entirely new language were two of my greatest achievements while at Ursinus.
What exactly are you hoping to do after you graduate? What field are you interested in?
After graduation I hope to pursue a career where I can utilize my Chinese speaking and writing skills. It would be amazing to work somewhere I could apply my unique skill set in a real-life context, such as the United Nations or as a language translator. Additionally, after interning with StreetSquash during their Summer Discovery program I realized I also have a passion for working with youth. I'm hoping my education and past experience will help me pursue careers in either of these fields.
Do you think you or someone you know would be a good person for Kbudah to connect with to discuss her professional interests?
If so please contact
Assumpta
for Kbudah's contact info!